DINO History

Alfredino was the name that Enzo Ferrari gave to his son who was born in 1932. "Dino" grew up in an environment where racing and winning on four wheels was all important. It isn't a surprise therefore that Dino followed in his fathers footsteps and in his early twenties was working alongside Enzo engineering engines and cars to put them in. Enzo believed that the "perfect" engine configuration was the V12 and maybe as a wish go in a different direction to his father, Dino started designing a smaller V6 power unit. We don't know exactly how far he was getting with his designs when he became seriously ill in 1955, but Enzo was known to have commented that although for him the V12 was all that mattered, a V6 would be acceptable in the right car. Later in 1955, Dino was bed-ridden and died in June 1956. Enzo was understandably distraught and as a legacy to his son he decided to name all V6 engines "Dino" from that moment on.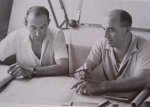 Before Dinos death, Aurelio Lampredi had been working on the V6 engine, followed by Jano who carried on this work in 1956 which was when the first Dino V6 was tested at the Ferrari factory. The following year saw a V6 being put in a car (the Tipo 156) and raced for the first time. It was a 1.5 litre (1489cc) with a V angle of 65°, 70mm bore and 64.5mm stroke. Another engineer, Franco Rocchi, followed on by working on V6's in the early '60s.
Fast forwarding a few years and in 1964, motorsports governing body proposed a number of changes to the rules to qualify for entry in the Formula 1 and Formula 2 world championships. The rule change that concerns us here is the one whereby to be able make it to the F2 grid, all cars must have an engine that is derived from a car for which at least 500 units have been made. Crucially it was the basic engine that had to be the same, therefore the capacity could be different.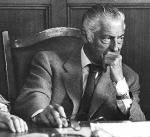 This had huge consequences for Ferrari as they just did not have the money or resources to make that number of engines or cars (and quite frankly they were not interested in going in the production car direction either). The obvious answer was to find a partner capable and willing to undertake the design and production of a car for Ferrari's purpose and he found the perfect partner in Fiat. The trade-off for Fiat being that they would enjoy the notoriety of being associated with the formidable and highly successful national racing team. Enzo Ferrari and Giovanni Agnelli entered into talks and on the 1st March 1965 an official agreement was announced whereby "In accordance with the decisions of the International Commission on Sports on the Formula 2 (1967) racing, which prescribes a minimum production of 500 units in 12 months to obtain homologation and therefore derive a F2 engine, Ferrari has made an agreement with Fiat, whereby Fiat is to produce the 6-cylinder Dino engine in sufficient numbers to allow its adoption on the new single-seater Ferrari".
Thus was born the project that was to become the Dino. Ferrari was to design the engine and Fiat the chassis and of which coachbuiders work to choose to clothe it.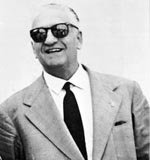 Ferrari wanted to use the Tipo 196 1.5 litre engine for F2 as it performed well and had been tried and tested. The engine capacity was to be increased to 2 litres for the road car and Fiat started by testing it to destruction. These tests did not go well (as expected of a race engine), so a number of modifications were needed to create a reliable yet powerful engine, easy to service and maintain for Fiats network of main dealers. There was a lot of correspondence between Maranello and Turin to cement the design but gradually the "Tipo 135 B" was born. 2 litre (1987cc), all alloy head, twin overhead cams for each cylinder bank, 3 twin-choke carburettors, 9:1 compression ratio and rated at 160bhp (DIN).
Fiats chassis design by contrast was fairly mundane and stems from the fact that they really didn't have much time from a standing start to a fully completed production car to be ready by early 1967- just over 18 months to be precise! The main curiosity at the time being the use of the live leaf spring rear suspension, although to be fair even though early road test articles all questioned this choice as not being avant garde, they all reported that it worked surprisingly well.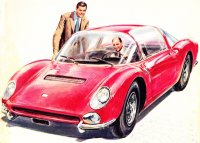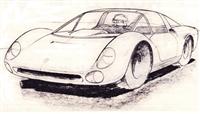 Pictured is a very early Pininfarina Spider design. It featured in a popular Sunday magazine of the time (May 1965) where Pininfarina himself (then 70 years old) presented his son Segio and son-in-law Renzo Carlis' drawings of the imminent "Dino Fiat" (originally the "Dino" came before the "Fiat"). It was billed as the "Dream car attainable by many". Interesting features to note are the wrap-around side windows and the side air scoops (seen on the b/w drawing) - in this design the engine was in the rear. The expected date of the first publicly available models was the end of 1966 with a (optimistic) top speed of 250 km/h (156 mph)!
Pininfarina was very interested to design and build the Coupé bodywork and produced a number of drawings and prototypes with this in mind. Some remained on paper while other full scale mock-ups and semi-working cars were displayed at various motor shows between 1965 to 1967 during the lead up to the official launch of the Dino Coupé which of course was designed by Bertone. Pictured here are some of the Pininfarina creations (click to enlarge):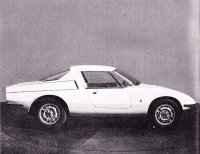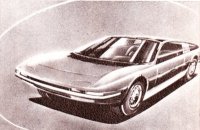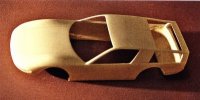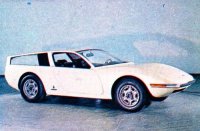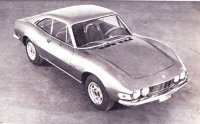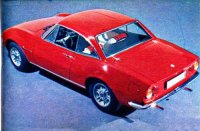 Production of the engine, chassis and mechanical components began on the 8th of October 1966 at Fiats newly constructed Rivalta factory just south of Turin, whereas the Spider body was constructed, painted and trimmed by Pininfarina in their own factory and then delivered to Rivalta for final fitting. Sergio Pininfarina is quoted as saying:
"The Dino represented a fundamental moment in our relationship with Fiat. A project which required a huge effort, born out of the meetings between Fiat and Enzo Ferrari which culminated in the famous agreement between the manufacturer from Turin and that from Maranello. Moreover my father had just passed away and I had to demonstrate that I was up to the task entrusted to me by Pininfarina. We needed to construct a certain number of examples to enable Ferrari to race in the Formula 2 championship, as agreed by Agnelli, and we worked night and day fearing that we would not e able to successfully complete the task".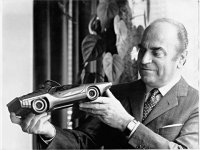 The remit for the Coupé bodywork design was originally given to Bertone in 1964 and after a relatively long period was concluded and first shown in the March of 1967 at the Geneva Motorshow.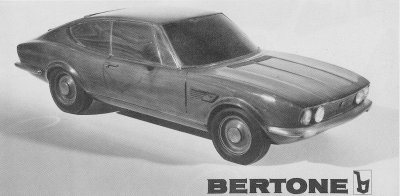 Here is a photo of the 1967 Fiat range: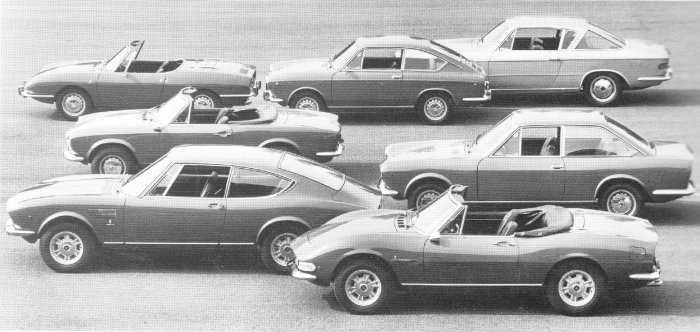 Another photo from 1967 showing a Fiat trip to the Alps with a 124 Sport, a 125 and of course a Dino Coupé: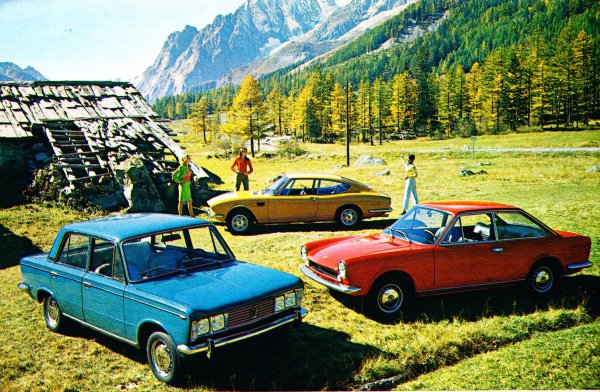 Production of the 2 litre models carried on for 2 years during which time there were a number of modifications made to the car and engine, mainly to improve reliability, the most notable arguably being the introduction of the Dinoplex ignition system which Fiat commissioned Magnetti Marelli to design and make to overcome plug fouling problems which frequently occurred in the invariable slow moving traffic of Italy's city centres. This system being the world's first electronic ignition system fitted to a production car and subsequently used on racing cars too such as the Formula 1 312s and the Alfa Romeo Tipo 33.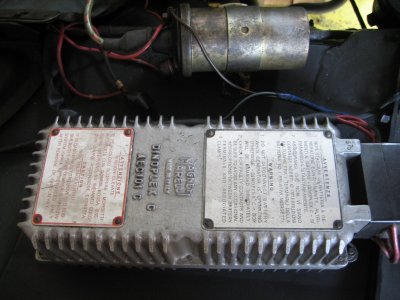 Fiat was meanwhile working on a second series with which it wanted to iron out some of the problems of the 2 litre model, some of which had been imposed upon them by Enzo Ferrari due to his need of an engine as close to possible to the racing version to limit the need for him to have to make heavy modifications, and partly due to the fact that when Fiat designed the Dino, they were under a tremendous time pressure and had to make some decisions that possibly with more time they would have done differently. Both the Spider and Coupé were subjected to a raft of changes touching virtually every body panel and many of the mechanical components too. Some obvious changes are the increase engine capacity to 2418cc (by altering the bore and stroke to 92.5mm x 60mm) using a cast iron block instead of the previous aluminium one, a different 5 speed ZF gearbox and independent rear suspension (taken from the Fiat 130).
Pictured are examples of 2.4 litre models: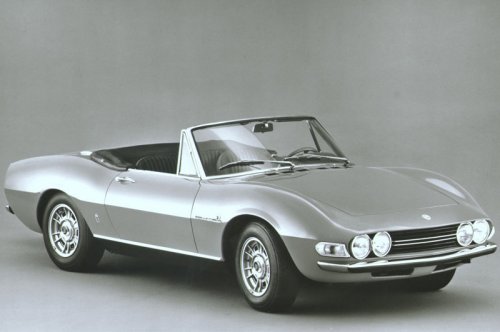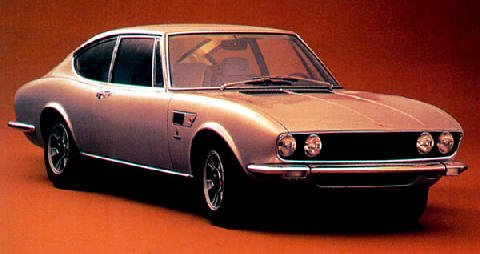 Production of the 2.4 litre cars was moved to a purpose built (by Fiat) production line at Ferrari's Maranello factory. Here the Fiat Dino was constructed alongside the 246's and meant that production at Fiats Rivalta factory wouldn't have to be interrupted for small runs of the Dino. The last Dino Spider rolled of the production line in January 1972 while the Coupé was produced for a further 5 months until June 1972.