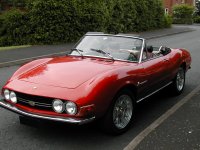 Brian Boxall, Worcestershire, UK
Fiat Dino 2400 Spider BS1319 (pictured), Fiat Dino 2400 Spider BS1562, Fiat Dino 2000 Spider AS726
I first spotted a Fiat Dino spider in 1977, at a petrol station in Swindon. It was dark blue, with tan interior, and I was smitten. It took 2 years to find one advertised for sale, in Stoke on Trent, and I paid £1500 for it. On the way home it broke down several times, and the 60 mile journey took 5 hours. I kept the car 12 months, and foolishly (and this is a pattern that seems to develop over the years) got talked into selling it to a colleague. Four more years passed, and having made contact with the guru of Fiat Dino's, Mike Morris, located, with his help, another spider, this time in Stockport. This was a far better car than the first, and cost the princely sum of £2500 (1984). I also paid 3 bottles of single malt scotch for a huge box of spares that included a partially complete spare engine. I continued to improve this car, and had every intention of keeping it, but in 1987 purchased, as a non runner, for £6500, my 2400 spider, which I still have today. At this point in my "Dino" life, it didn't seem appropriate to own more than one at a time (oh, how times have changed!), so I advertised the 2 litre spider, and was almost killed in the rush. The buyer came armed with £5 notes (£8700) in a Tesco bag, took it away, and managed to sell it within a week for £11,000. Do you think I may have under valued it?! It quickly went through 3 owners before selling to a good pal (and 166MM owner) the late Derek Collins. He paid £16,000 for it, and had asked me some while previously if I would sell him the car, but at the point that I was ready to sell it, I had forgotten this.
As I became more fascinated by these cars, I became more willing to share my experiences, and it was at about this time (1987) that I began to write about the cars, and to organise displays, and events. I enjoyed "ELR" (the number that was on the car when I purchased it was ELR 757T, but has since been changed to a private plate, but the car is still referred to as "ELR; quaint eh?!) for around 4 years (until 1991) taking it to Le Mans (with your esteemed editor, and his family), until the corrosion seemed to get too bad to be roadworthy, and I asked a very good friend if he would do a renovation on it. I hesitate to use the word restoration, since the engine, gearbox, interior and hood all remained unchanged and untouched, whilst every since panel needed some form of repair (Generally speaking the bottom 4" of the car was replaced!). Work progressed at a leisurely pace, and had it not been for severe problems with a badly corroded screen frame, the car would have been finished by 1994, but it took another 12 months to locate a useable screen frame (in New York) which cost a whopping $500, but was necessary since I had already, unsuccessfully, wasted £300 trying to have the original repaired. The car made it's debut in 1995, and has fared quite well, only now does it need remedial bodywork and localised painting. During the 23 years that have passed since purchasing "ELR" around 19 additional Dino's (spiders & coupes) have passed through my hands, the most recent of which was the dark blue low mileage car that won several trophies in the 2 years I owned it, and that I SHOULD NEVER HAVE SOLD! (refer to comments on this subject from 1979 in article above!). One of the benefits (please discuss correct interpretation of the word "benefit") of being on the Dino "scene" is that I get to hear about cars for sale, and so this is how I came to buy the 2 litre spider in December 2007.
The owner at the time, had purchased the car in 2002, and had enjoyed it (when it worked). The interior and hood are actually quite good, the bodywork is so-so, but it has several mechanical issues, which I am attending to as I get time. A major effort (and not inconsiderable expenditure) saw the steering, suspension, electrics and brakes repaired to enable a fresh MOT; this was vital in order to obtain the road tax to make the car street legal. I was then in a position to undertake rolling repairs, which is what I am doing right now. The gearbox is very graunchy, so I've obtained a spare, which will be rebuilt and fitted, and the engine smokes pretty heavily (it's a 40 a day man). It could be that the rings are stuck from 2 years inactivity, and I intend getting 500-1000 miles on the car this summer to see if the smoke subsides to an acceptable level (ever the optimist; something that comes from owning a 40 year old Italian car
In June 2009 I purchased, as a non runner BS1562, the 22nd from last chassis number produced (of 1583), and the first of only 22 produced in 1972 (January). Production ceased in that month.
The engine was out of the car, and I had it rebuilt at Superformance. I then asked Mark Devaney go make the car roadworthy, which involved much welding, structural repair, and a brake overhaul.
I'm looking forward to getting all 3 spiders out and about in 2010, and plans are already in place to take the latest spider (BS1562) to Le Mans in June 2010. Wish me luck!!.